The Pretty Haus is excited to announce that we are now members of the Calgary Bridal Alliance. As a Calgary makeup artist and Calgary hairstylist this membership is important to us as it recognizes our dedication to the wedding industry and shows our committment to excellence and professionalism. It also reflects our years of experience and provides a further layer of confidence that you can trust The Pretty Haus to provide beautiful hair and makeup for your wedding day.​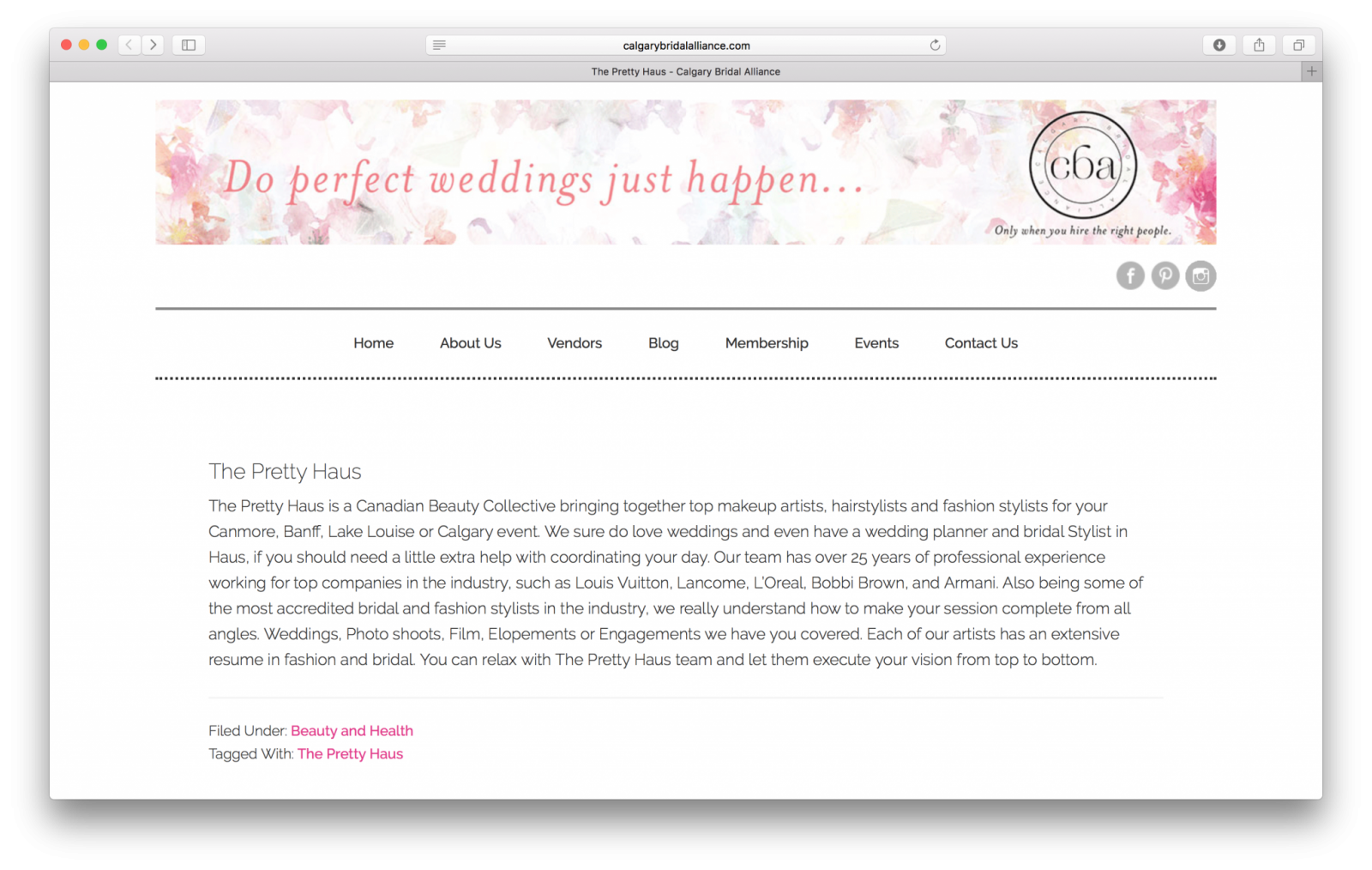 From the Calgary Bridal Alliance:
The Calgary Bridal Alliance was founded to ensure the engaged couple have a positive experience with industry professionals that they can rely on and industry professionals that adhere to a standard of excellence. It is comprised of wedding related businesses with a minimum of two years in business.​
​
Each member has been approved by our executive committee, which selects applicants for experience, expertise and professionalism. Our members adhere to our Code of Ethics, which requires honesty, integrity, and understanding that you place in their hands the most important day of your life!​

About The Pretty Haus - in case you can't read the snapshot above :)
(Calgary Makeup Artist & Calgary Hairstylist)
The Pretty Haus is a Canadian Beauty Collective bringing together top makeup artists, hairstylists and fashion stylists for your Canmore, Banff, Lake Louise or Calgary event. We sure do love weddings and even have a wedding planner and bridal Stylist in Haus, if you should need a little extra help with coordinating your day. Our team has over 25 years of professional experience working for top companies in the industry, such as Louis Vuitton, Lancome, L'Oreal, Bobbi Brown, and Armani. Also being some of the most accredited bridal and fashion stylists in the industry, we really understand how to make your session complete from all angles. Weddings, Photo shoots, Film, Elopements or Engagements we have you covered. Each of our artists has an extensive resume in fashion and bridal. You can relax with The Pretty Haus team and let them execute your vision from top to bottom.